HOME > Development Examples >
A production line for the outer bodies of fully automatic washing machines

Below are some examples of the products that Enami has developed.
We manufacture products that are suitable for various usages in wide industrial fields.


External appearance of the system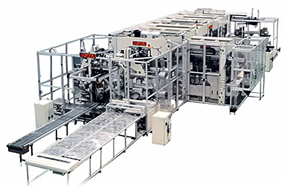 Needs from our customers
Abolishing the conventional welding and painting processes, and, by using coated steel sheets, customers demand shortening of the process and production lead times. Further more, the time necessary in between for changing the colour of the outer body should be reduced. The production line should also help to protect our environment preventing air and water pollution.
Enami's development solutions
Using PCM steel sheets and joining the materials by calking instead of welding, Enami has established a process (pressing process) for making the outer frame without scratching the outer surfaces. Enami also has achieved a production line that produces two entirely rounded forms with different degrees of curvature by changing dies automatically without the need for interference during the production.
Comparison between Post Coat (Old) & Pre Coat (New) methods
  Production cost20% less
Without using coated steel sheets(postcoat)
A
Using coated steel B
B/A(%)
Operators
12 persons
2 persons
17
Lead time
164 minutes
1.3 minutes
0.8
Production cycle time
28 sec
12 sec
43
Interference
41 min/time
5 min/time (replacing 12)
12
Space necessary for the
3.225
225
7
A finished product and the appearance of the shape of the product